Speakers and Other Session Participants
Thank you for being part of the virtual 2021 AAAS Annual Meeting! This page is for session organizers, speakers, moderators, and other participants in the meeting program. Find important information to help you prepare for your presentation and get the most from your meeting experience.
Promote Your Session
Social Media
Let your online followers and attendees who would be interested in your work know that you are presenting at the Annual Meeting!
Live-tweeting of scientific sessions is encouraged. #AAASmtg
Presentation Assistance
Your Audience
The AAAS Annual Meeting draws an interdisciplinary audience. While you are likely to have experts in your field attend your talk, you will also have scientists and students from other fields, as well as policymakers, journalists, and science communicators. Please ensure that non-specialists will be able to follow your presentation.
Recording a Spotlight Video
Session participants must submit the Spotlight Video recording along with their presentation slides* by Monday, December 14: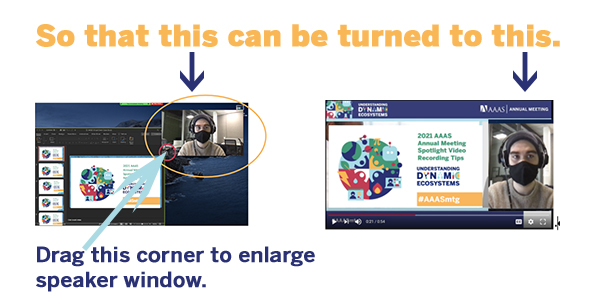 View this video for tips on how to record a Spotlight Video using a free Zoom account.
Additionally, the video below covers all aspects of your recording from preparing your presentation slides to making sure your devices are ready to record. Here is the index of topics covered in the detailed video above (approx. 12 minutes):
See a brief outline of what is covered in detail in the video and view the presentation slides with the guidelines.
Preparing Your Presentation Slides
Use a font size larger than 16 points.
Use fonts with consistently thick lines.
Provide captions for any videos shown.
Members of your audience may be color blind. For graphs, avoid using red and green together. Blue/orange is a common colorblind-friendly palette. Blue/red or blue/brown can be used as a substitute.
Use a high color contrast for text and background of slides (such as dark text on a light background).


Setting Up for Recording
Check for good internet connection:
Ensure your internet connection is strong. If possible, use hardwired internet. If that is not available, disconnect all other devices from the Wi-Fi.
Do not use a hotspot! Zoom requires a lot of bandwidth and use of a hotspot will result in a choppy video and/or audio feed.
Position computer at eye level:
Just because you can't see your audience doesn't mean they can't see you.
You do not want people to see up your nose or the top of your head! Elevate your computer or device so that your camera is at eye level or very slightly above eye level.
Find a well-lit space:
Make sure you choose a well-lit room.
Do not sit with an open window directly behind you or to the side as this can make your video look dark.
Direct overhead lighting can also cast unflattering shadows on your face.
Use a lamp with a soft bulb or specialty lighting placed out of the frame of your video in front of you (behind your computer) or to the lesser lit side if your room's lighting is unbalanced.
Don't use virtual backgrounds:
We discourage the use of virtual backgrounds whenever possible. They draw heavily on bandwidth and can look glitchy when you move, especially around your face, hair, and hands.
Use a good microphone:
We recommend using an external microphone. However, if an external mic isn't an option, make sure you test your computer audio or headset.
Be sure your devices are charged:
Make sure all of your devices are fully charged, that you are sitting close to a power source and you also have the power cord readily available in the event you need to plug them in to be charged.
Recording
Deliver your presentation as if you are delivering it to a live audience.
Pin your screen during the recording.
Avoid speaking in a monotone or speaking too quickly.
Make sure to pause after explaining each visual so that individuals will have a chance to process the information.
Gesture purposefully for emphasis.
When recording your presentation, the frame the frame showing the speaker should be as large as possible. It should also be "pinned", so the recording captures the image clearly, allowing our editors flexibility in making the spotlight video.

Your slide presentation is only there for reference for our editors and should only take up half of your screen. Along with the videos you record, we will also need you to upload the presentations slides as a separate file in Dropbox.
Here is a short script to assist the moderator when recording each spotlight video.
Confirmed participants who have completed their waiver will receive an invitation from WorkerBee via Dropbox with more information on where to send their recordings.
Other Questions:
In general, aaas.org/meetings is a good resource for questions about the AAAS Annual Meeting. However, if you need additional information, please feel free to contact us by emailing meetings@aaas.org